An FAE SFM proves invaluable for ordinary maintenance in a forest-rich area
The municipality of Schwarzau im Gebirge, located between the Rax and Schneeberg mountains in the southern part of Lower Austria (Niederösterreich), sprawls over an area of approximately 192 km². Although it is the third largest municipality in Lower Austria, only 646 people live there, meaning that it boasts around 30 hectares of land per inhabitant. Clearly there is no shortage of space, then; but most of the area is covered in dense forests.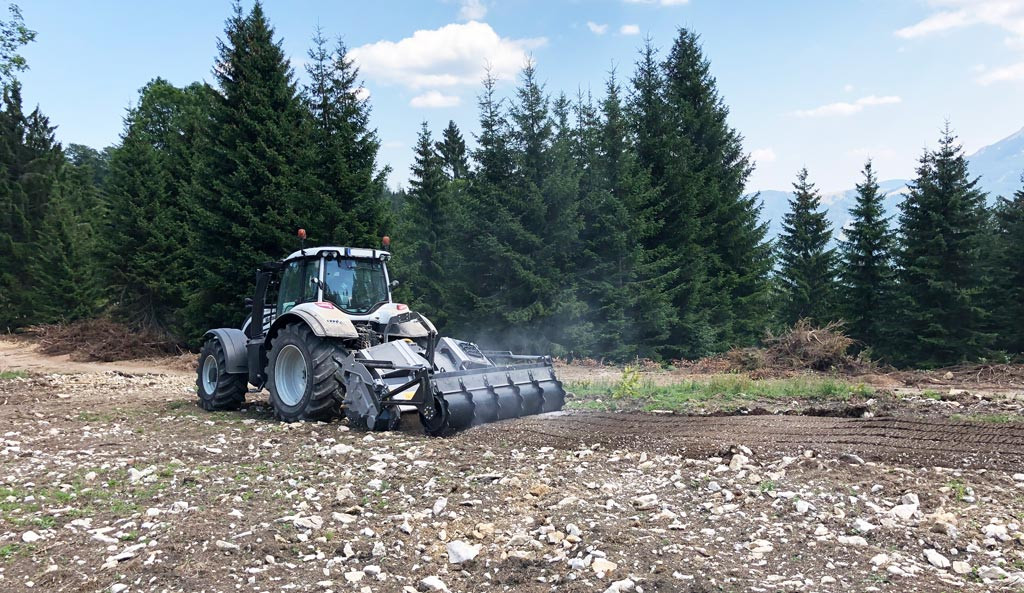 So it's not surprising that much of the population works in the forestry sector and in woodworking, including Josef Ottersböck, who lives in the village of Vois.
As an independent entrepreneur in the forestry sector, he is always busy: indeed, his clients include the local administration, which owns more than 400 hectares of forest as well as managing several hundred more.
"There are between 40 and 50 kilometers of forest roads running through the forests", explains Ottersböck. "Keeping them accessible and in good condition at all times is often a challenge, and requires the right machinery. One thing I definitely need is a good cutter".
He describes how his client discovered the FAE SFM while searching on the Internet. Then, the client accompanied him to the Tull Trade Fair to investigate further.
In the end, they both found what they were looking for at the Mauch stand, a trader in agricultural and forestry machinery and FAE retailer for Austria. The cutter was on the stand and the assistance they received was highly competent and enthusiastic.
"We were really impressed", says Ottersböck with a smile. "Both by the machine and by the representative. That was also a factor in our decision to make the purchase".
Now that the FAE SFM has got plenty of running time under its belt - or, rather, under its rollers - Josef has drawn his first conclusions. And it appears that he is highly satisfied.
The FAE SFM is one of the newest multi-task machines (150-300 HP) in the FAE Land Clearing line.
It can crush stones with a diameter of 30 cm and cut trunks with a diameter of 40 cm, up to a depth of 30 cm. The gearbox transmission turns almost twice as fast as a conventional cutter, which is why it also comes with an oil cooling system.
"The quality standard is extremely high", he says. "The steel is excellent and the machine itself is very sturdy and solid. It's absolutely first class, I have to say". And so Josef Ottersböck and his new FAE forestry cutter are now free to work to their hearts' content. One thing's for sure: they've got plenty of forest to do it in.
For more information: www.mauch.at
Share your story with us! Contact: [email protected]
For more information: SFM