The Davey Tree Experts Company of Canada uses FAE tracked vehicles and heads on a daily basis
Davey is a large private company operating in the United States and Canada. From its US headquarters in Kent, Ohio, and its Canadian headquarters in Ancaster, Ontario, it oversees more than 10,000 employees in the US and 750 in Canada.
"The Canadian branch alone has 10 FAE tracked carriers," says Jesse Imbeault, Alberta's Regional Utility Manager. "Nature up here in Canada can be extreme and unpredictable, so we need machinery that's top-quality and really strong, to work efficiently, even at 40 degrees below zero. That's why we count on our FAE PT tracked carriers. Davey Tree has quite a few of their models, from the PT-175 to the PT-300. We bought them from Edge Equipment in Edmonton, the company that markets FAE machines in French-speaking Canada."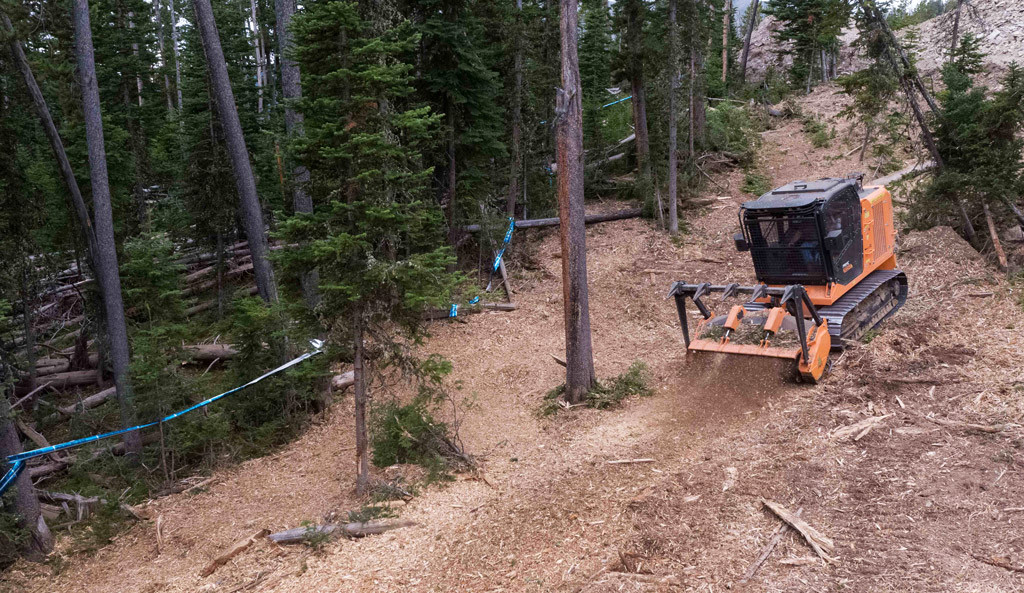 What is the most common type of work you get?
"We do maintenance of roads and forest trails, highways, power lines and gas pipelines. We work on private roads and residential projects too."
The FAE-PT tracked carriers are hard at work every day in rural areas all over Canada, making it tough to single out specific projects. "We work on sites from 100 sqm to 1,000,000 sqm. Don't forget, we've got 750 employees working for us, and that's just in Canada! Maintaining green spaces is a big deal here, and the market is huge."
FAE tracked carriers are paired with specific FAE heads. What models do you use the most?
"Right, depending on the work we're doing. We use forestry mulchers a lot for special vehicles, like the 140/U. It's so compact that it's perfect for making forest corridors, but it's good for oil exploration too. It can be completely adapted to suit the client, like by making the transmission system either mechanical or hydraulic, or customizing the attachment system, the shape of the guard frame, and any wear-resistant reinforcements. Because of that, equipment is only available on request. Another model we use is the 200/U for tracked carriers. It has the flexibility and handling you'd expect from a compact machine, but performs like the top forestry mulchers. Then there's the 300/U for tracked carriers between 300 and 450 hp, which can mulch plants up to 40 cm in diameter. Again, you can customize it for specific needs. The version with the variable torque (VT) hydraulic motor boosts performance by up to 50%. It can also be equipped with a lot of different types of teeth to meet the client's needs."
The FAE vehicles owned by the Davey Tree Expert Co. of Canada are mostly used to mulch the woody material that builds up on forest roads, but can tackle just about any kind of challenge. So, what's the client's final verdict? "We are really happy with it," reports Jesse. "The heads and the tracked carriers are both easy to use and maintain. The heads are built really well and don't stall-which used to happen when we had other models, and it made us waste a lot of time."
For more information: daveytree.ca
Special thanks for the collaboration of: edgeequipment.com
Share your story with us! Contact: [email protected]
For more information: FORESTRY MULCHERS FOR SPECIAL VEHICLES