The city of Samara, in central Russia, is home to Prime Pride Ltd, a company with more than 50 employees, founded in 2014, and the official distributor of machinery and technical equipment (including FAE products) in Russia and Belarus.

"FAE is one of our leading partners," says Denis Aniskin, head of business development for forestry mulchers and road construction machines, "and they support us in various business areas, which involve providing land-clearing services in the agricultural and forestry sectors, power line and railroad maintenance and road construction."

"We have been working with FAE for several years and are highly satisfied with the relationship we have with the Italian manufacturer. We use various FAE models on a daily basis: two PT-300 tracked carriers, a UMM/DT 200 mulcher for tractors, and an SFM 200 multitask, which is an all-in-one stone crusher, mulcher and forestry tiller."

These machines allow Prime Pride to handle high-profile contracts, such as the recent work on the M12 Moscow-Kazan highway, on land owned by Cherkizovo Crop Production, work on Rosneft and Rosseti power lines in the Samara region and work commissioned by Russian Railways in protected areas of the Republic of Mordovia.

"Our FAEs are proving to be a very successful investment," explains Denis. "They guarantee results at any site, but I would like to focus on one very interesting job we did with the MTH 225 in Saint Petersburg.
Several areas of the city are built on reclaimed land. The land is built up where there used to be only water. The process involves dumping hundreds of tons of earth and sand into the sea and waiting 8 to 10 years for the ground to rise, as they say. In other words, it hardens to create a surface suitable for building homes or, in our case, roads.

For road construction, it is very important that the ground below the asphalt is not only dense but also uniform, or else it could give way and lead to bumps, holes or cracks in the road surface. This is a big risk in areas that experience very low temperatures or large jumps in temperature, as happens in Saint Petersburg in spring and late fall."

Here are the phases for the road construction work in Saint Petersburg:
First, a special substrate (rock) is laid and stabilized to a depth of 20 cm.
The ground is then prepared with a road roller.
A tractor is used to uniformly lay another special binding agent made mostly of cement and lime.
The soil stabilizer makes another pass, tilling the ground to another 35 cm.
Another pass with the road roller, and after 10 hours, the substrate is ready.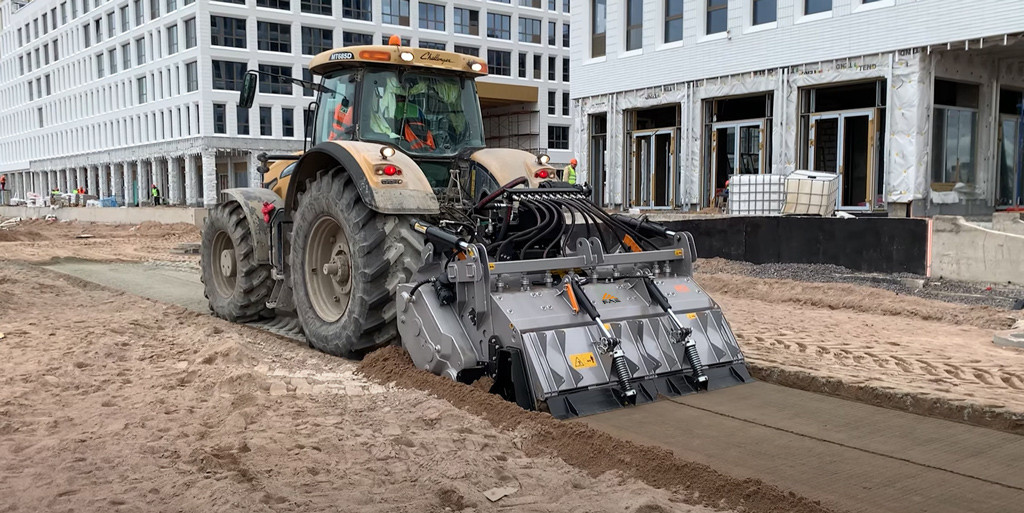 The result is a dense, uniform surface that is perfect for laying asphalt.
One of the most popular features of the MTH on construction sites has to be its mobility.
Standard soil stabilizers are very big, very heavy tracked vehicles. The MTH 225, on the other hand, used with a tractor, is far easier to maneuver and moves independently. This makes a huge difference, especially when working on narrow streets, parking areas, and courtyards. It is also ideal when fall brings muddy streets, a regular occurrence in Russia. A tractor can handle these conditions easily, while a heavier machine certainly could not.
"We were also struck by the efficiency of the machine on rocky ground," continues Denis. "The MTH transforms it into something similar to sand with no effort at all." Workers were also won over by the automatic Water Spray System.
"When stabilizing soil, it is very important to maintain a specific level of moisture, 8% in this case. So, we measured the ground moisture and entered this number as a reference value in the tractor's computer. From then on, the MTH operated automatically, providing the correct amount of water to the mixing chamber, making the work much easier," concludes Denis.
Share your story with us! Contact: [email protected]
For more information: Multitask
For more information: prime-pride.com